Globalization, speedy technological development, colossal environmental problems and growing social crisis are some of the major issues that have started to shape the world of education. There is already a growing consensus among leading academic experts, governments, businesses, multilateral organisations and other stakeholders that education needs to become more relevant to the changing needs of the society and more responsive to the environmental threats. It has now become an economic as well as social and ecological imperative to transform education to meet the 21st century challenges.

As the education sector stands at a crossroads, the Education for Sustainable Conference | International Greening Education Event (IGEE) serves as a platform that facilitates stakeholders' dialogue for sharing ideas and experiences, presenting sustainability education programs and initiatives, building synergies and fostering collaboration for transforming education. The event is an occasion to analyze the critical role of the academic institutions and the educators in creating a more peaceful and more sustainable world.

Since it is a gathering of stakeholders from around the world, IGEE is widely recognized as a truly global forum to debate on making sustainability an integral part of all curricula, courses, teaching and learning material and in the operations of academic institutions. This international event offers an excellent opportunity to deliberate on equipping both young and adult learners with competencies and skills that they need to succeed in addressing the emerging challenges. It is also a forum to examine the integration of values and ethics in educational programs for preparing today's students to be tomorrow's responsible leaders, active citizens and better stewards of our planet earth.
The Education for Sustainability Conference 2016 │ International Greening Education Event will provide a global forum to examine Paris Climate Change Agreement and deliberate on how it influences teaching and learning in the 21st century.
"Article 12
Parties shall cooperate in taking measures, as appropriate, to enhance climate change education, training, public awareness, public participation and public access to information, recognizing the importance of these steps with respect to enhancing actions under this Agreement." - Paris Agreement │United Nations Framework Convention on Climate Change, 12th of December 2015
---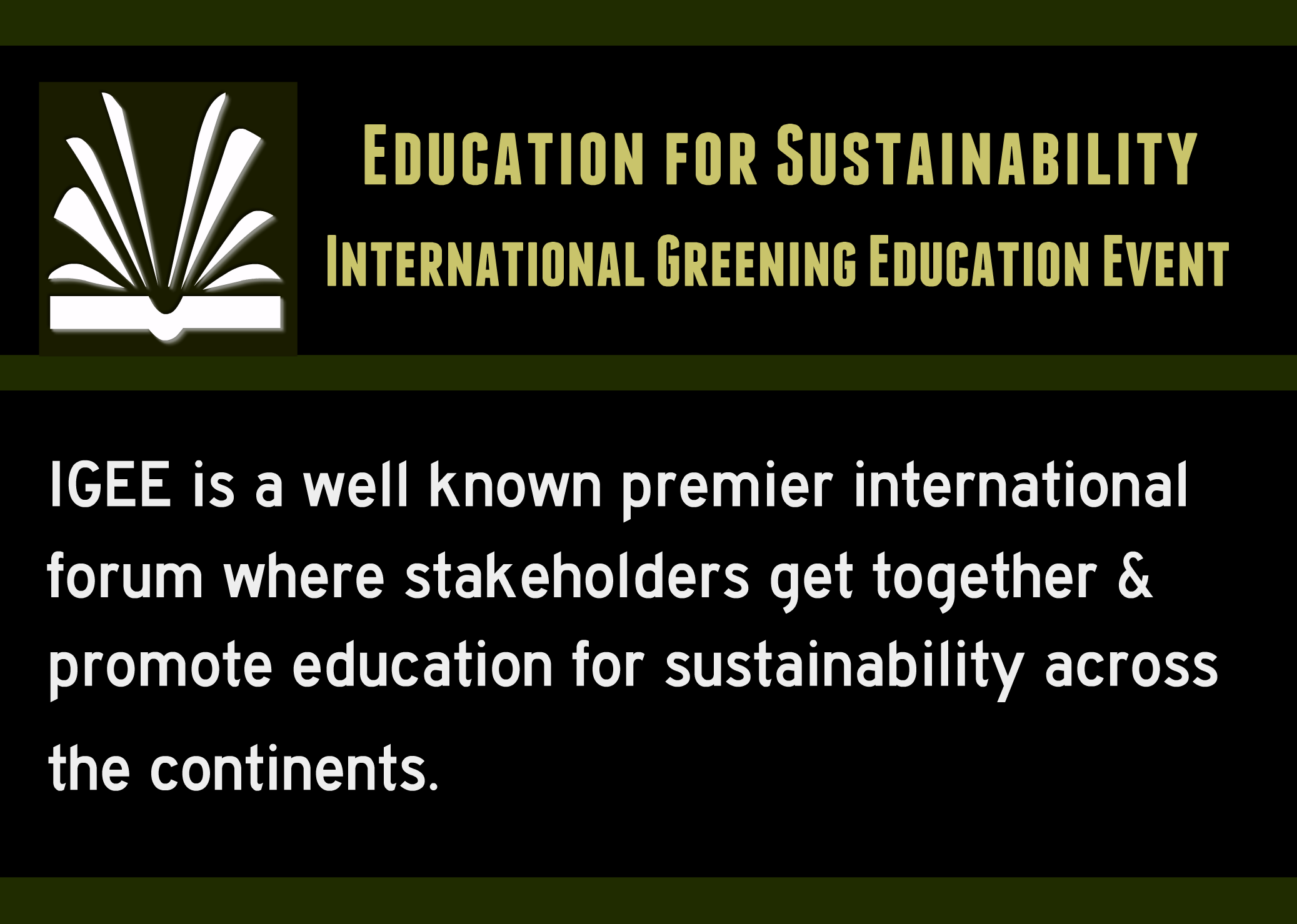 The global academic community and other stakeholders interested in the subject of transforming education meet annually in Karlsruhe, Germany. If you would like to discuss your active participation, you are welcome to contact us via e-mail: mail [@] eosd.org.
Institutions Represented @ IGEE »»
What delegates say about this international annual event »»
Changing Education for a Changing World »
IGEE │From Knowledge to Action »
Education & the Sustainability Challenge »


IGEE │ PLATFORM TO ADDRESS KEY QUESTIONS:
What academic institutions and educators need to do to effectively respond to the fast changing global scenario?
How to successfully position academic institutions as one of the key leaders in creating a sustainable world – environmentally, socially and economically?
What competencies, capacities, abilities, skills and attitudes are increasingly in demand and will be the "must-haves" in the future?
How to engage young and adult learners in sustainable development?

These and many other fundamental questions need to be extensively discussed and answered to launch or to intensify our efforts for mainstreaming sustainability in education.

---