Message from the Lord Mayor of Karlsruhe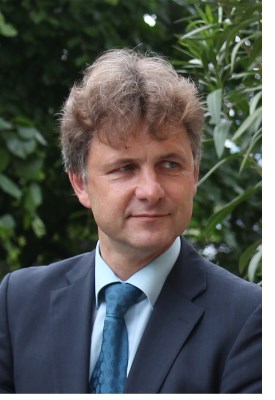 Karlsruhe, the city of inventions and innovations, is located in the heart of Europe. It is one of the most technologically advanced and economically sound cities in Germany and is ranked as one of the top sustainable cities in the country excelling in environment, economy, social development, human capital, energy, transportation, transparency and citizen involvement.

Our City Administration continuously strives to provide the best quality of life for our citizens while reducing the environmental footprint. We have launched several initiatives such as SmarterCity or the EnergieForum of Karlsruhe that are contributing in making the city a model for sustainable development and are furthering our goal of becoming a carbon neutral and sustainable city.

But in an integrated Europe and in a globalized world, the responsibility of each one of us does not end at our borders. We need to work together to make our world more just, more peaceful and more sustainable. This requires a high level of commitment and allocation of resources - including finance and investments.

It is in this backdrop that Karlsruhe, which is the host city of several major international events, is pleased to be the city that provides a platform for dialogue, intellectual exchange, networking and exploring business opportunities in the field of sustainable finance and investments. It is also our honour and privilege that the financial institutions with proven commitment to sustainability issues will be awarded the Karlsruhe Sustainable Finance Awards.

We look forward to welcoming you and other delegates from all over the world to actively participate in the Global Sustainable Finance Conference. It will also be our pleasure to welcome the winners of the Karlsruhe Sustainable Finance Awards. The Karlsruhe Economic Development Department will be pleased to assist you in whatever ways it can to make your visit to Karlsruhe a success.

On behalf of the City of Karlsruhe and on my personal behalf, I wish you very productive deliberations and fruitful networking during the Global Sustainable Finance Conference. We also wish you a pleasant stay in our beautiful city that encompasses over 900 hectares of public parks and green space and provides numerous cultural and recreational opportunities.

Let us work together to create a more sustainable world.

Dr. Frank Mentrup
Lord Mayor of Karlsruhe.
THE CONFERENCE 2018 │ 12TH TO 13TH OF JULY │ GERMANY